1: Carrifran wildwood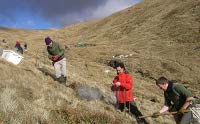 Ecological restoration in the Southern uplands  A truly bottom-up initiative to buy and restore a ecologically denuded valley in a spectacular area, involving grassroots supporters planting 0.5 million trees since the year 2000.  There is an option for a small group of well-equipped fit people to leave the main party and walk right to the top of the site and back again with a Carrifran leader - a stiff and pretty strenous walk of 4 hours.
We will return to Edinburgh Waverley station by 4pm.
2: Designed landscapes and green infrastructure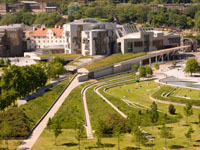 Tour of landscape design within the Edinburgh city boundaries, from historic core through the urban and peri-urban to the countryside.  The tour will take place in the naturalised landscaping around the new Scottish Parliament, continue through the historic Holyrood Park (with Historic Scotland's ranger service), moving on to the Scottish Wildlife Trust's Duddingston loch nature reserve (with the Scottish Wildlife Trust warden), and finishing at Craigmillar Castle Park (with the City of Edinburgh Council's parks and greenspace team). 
We will return time to Edinburgh Waverley station by 2pm.