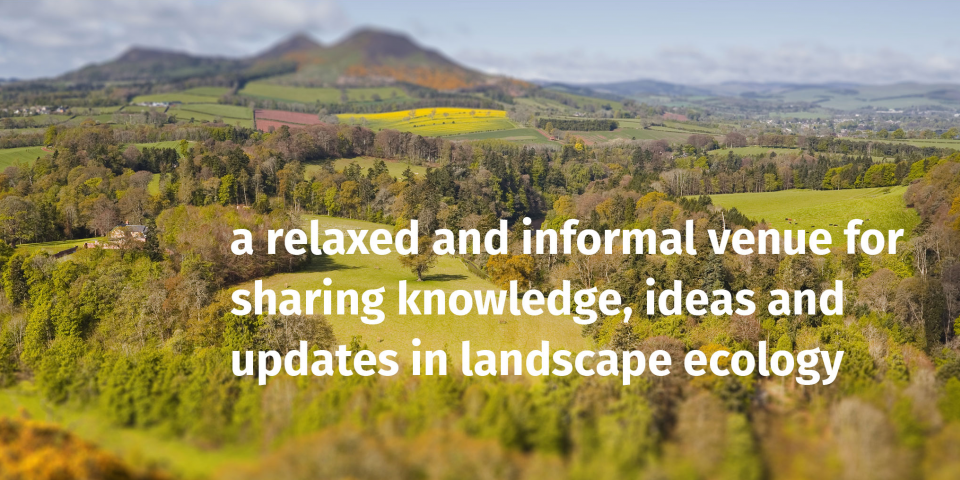 Join us for our free online webinar series, Landscape Connections.
In true ialeUK spirit, Landscape Connections provides a relaxed and informal venue for sharing knowledge, ideas and updates in the field of landscape ecology, with a chance to say hi to new and established connections.
Come armed with a cup of tea, pint of beer or the tipple of your choice! 
The talks will take place on Zoom. You will need to register and use the Zoom app or desktop client to join each talk.
Stay up to date by following #LandscapeConnections on Twitter.
We are running quarterly webinars for 2021/22, with two slots currently left. Please get in touch with us at connections@iale.uk if you would like to volunteer to present your landscape ecology work or to make a suggestion.
Up next:
Upcoming | Post-Conference De-Brief - the Landscape Ecology of Forests, Trees and Woodlands | With Adrian Southern, Woodland Trust (@GeordieSparrow), we'll use this webinar to reflect on our recent online conference, in particular how we can translate the research, policy and work discussed at the conference into real action and impact.
Past webinars:
2nd August 2021, 4pm | What is the State of the UK's Woods and Trees in 2021? | Adrian Southern & Karen Hornigold from the Woodland Trust will be talked us through their recent report, "The State of the UK Woods & Trees". 
2nd December 2020 | Landscape genetics of caecilians in the Seychelles | Simon Maddock, University of Wolverhampton, demonstrated how his landscape genetics research is providing a better understanding of the population ecology of caecilians (legless amphibians) in the Seychelles  | Watch recording on YouTube
4th November 2020 | Habitat preference and a species level perspective on habitat fragmentation | Jordan Chetcuti, Trinity College Dublin presented the research he did as part of his PhD at CEH and University of Leeds on modelling carabid habitat association | Watch recording on YouTube 
9th September 2020 | Land Cover Change and Urban Creep | Clare Rowland, CEH (@ClareRowland_UK) described her collaborative work on providing estimates of land cover change in the UK using CEH's landcover map and a project to map urban creep in Edinburgh using remote sensing data | Watch recording on YouTube
29th July 2020 | The Slow Ways Project | Daniel Raven-Ellison (@DanRavenEllison) provided information on this ambitious project to create a network of walking routes that connect all of Great Britain's towns and cities | Watch recording on YouTube
1st July 2020 | Our Coding Club | Sandra Angers-Blondin (@SandyAngersB) shared the great stuff Our Coding Club are doing to develop a positive peer-learning coding community for all things environmental data science. Includes live R coding demo | Watch recording on YouTube
2nd June 2020 | 25 Years of Landscape Ecology | Chris Young & James Millington | Download presentation pdf (2.3 MB) | Watch recording on YouTube