Tuesday 7 September 9.30-4.00
Public benefits
Forests, woodlands and trees provide a wide range of cultural, provisioning, regulating and biodiversity benefits, but evidence and understanding is complex and incomplete, and practical planning and ecosystem services-based management approaches are new. This symposium will demonstrate emerging models, evidence and practical case-studies that illustrate how the ecosystem services framework can support landscape and forestry decisions.
Restoring, planting and connecting
It is now a decade since the publication of the Lawton review put the landscape ecology principles of 'bigger, better, and more joined up' into the limelight. This symposium will present exemplary initiatives putting these principles in practice, along with new research that can support restoring, planting and connecting forests, woodlands and trees.
Optional evening social
On the Tuesday evening we'll have our ialeUK conference social with a twist! Join us at 8pm to experience an award-winning magic and mind-reading show over Zoom. It promises to be an interactive* and fun performance! Bring your beverage of choice and enjoy the 1 hour show with Duncan William.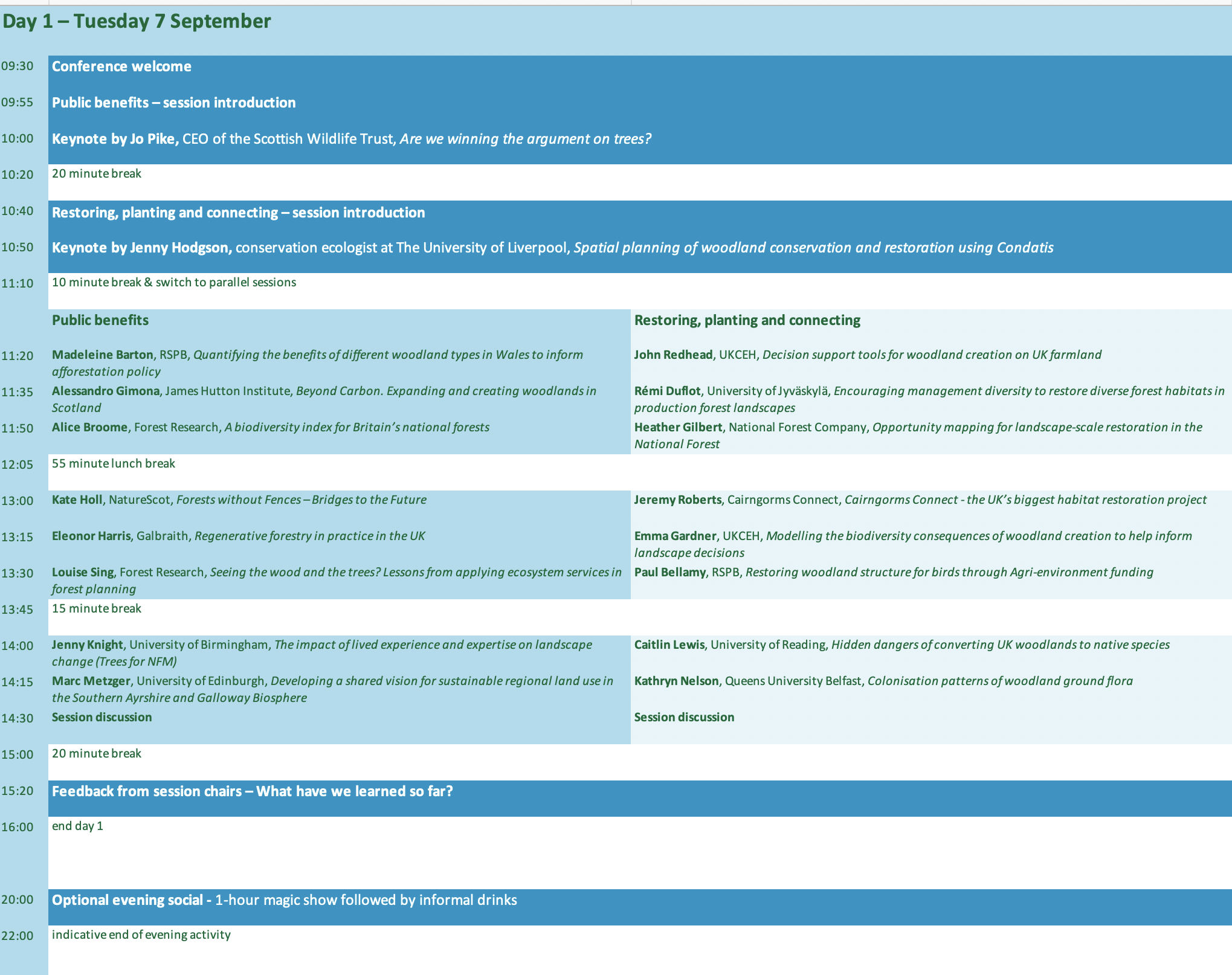 Wednesday 8 September 9.30-4.15
Monitoring forests, woodland and trees
We added this mini-session to group three talks reporting progress to understand and quantify change woodlands and trees and hedgerows. 
Trees and hedgerows
Outside forests and woodlands – in both rural and urban landscapes ­– trees and hedgerows provide important ecological habitats and play a crucial role within ecological networks. This symposium will highlight the ecological and socio-cultural importance of trees and hedgerows, bringing together both urban landscape ecology and the more traditional focus on rural landscapes.
Ecological resilience
Forests, woodlands and trees face a diverse and often inter-related set of pressures including climate change, invasive species, herbivore damage, pests and diseases. This symposium will present new understanding of these impacts and strategies to increase resilience in a range of settings, including native and productive forests. 
Closing panel discussion
We conclude with a panel discussion reflecting on evidence or solutions needed to support landscape scale policy and management of forests, woodlands and trees.