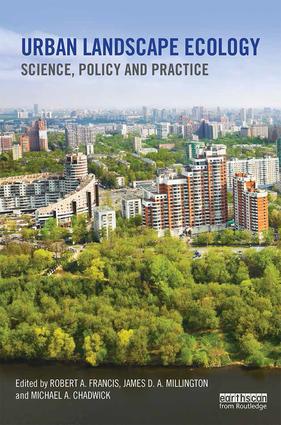 To have the chance of winning a new book on Urban Landscape Ecology we would like members and other interested people to tell us "What Landscape Ecology Is" by selecting the appropriate multiple choice answer below. Answers should be sent via email to newsletter@iale.uk. TWO lucky winners will be drawn at random from the correct answers received.
The new book brings together examples of research at the cutting edge of urban landscape ecology collated at the ialeUK conference held in London in 2014. The research investigates the state, maintenance and restoration of healthy and functional natural environments across urban and peri-urban landscapes. It integrates research and perspectives from across academia, public and private practitioners of urban conservation, planning and design. It provides a much needed summary of current thinking on how urban landscapes can provide the foundation of sustained economic growth, prospering communities and personal well-being.
The Competition
Which sentence below best describes what Landscape Ecology is?
(select one option)
1: Landscape Ecology links natural sciences with related human disciplines and thus is inherently interdisciplinary.
2: or - Landscape Ecology often brings together diverse groups of scientists, policy makers and land managers to better understand and manage landscapes and their ecosystems.  
3: or - Landscape Ecology emphasises relationships between ecological pattern and process to adequately understand and respond to environmental and sustainability issues.
4: or - Landscape Ecology encompasses all of the attributes described in 1-3.
5: or - Landscape Ecology is synonymous with Spatial Ecology
6: or - Combines the practise of landscape Architecture / planning with Ecology.
Email what you think the correct answer is to newsletter@iale.uk
Social Media
We are also promoting the book competition on "What is Landscape Ecology?" on twitter, leading up to ialeUK 2016 conference in Reading in September. We would like to hear your views of what Landscape Ecology means to you professionally or personally. All tweets will be collated and illustrated in the autumn newsletter. To contribute please use the twitter hastag: #LEtomeis. For example "#LEtomeis understanding the role of space and people in the ecology of landscapes". Feel free to link to this page too!