Sign the Tree Charter - click here
A charter for trees, woods and people
November 2017 will be a historic moment for trees, woods and people across the country. 800 years after the 1217 Charter of the Forest enshrined the right of free men to access the sustainable bounty of woodland and trees in Royal Forests, a new charter will be launched to bring the value of trees back to the forefront of public consciousness and political decision-making. Learn more or sign the charter to be involved in this momentous occasion.
Joining forces and articulating what trees mean to us today
The Tree Charter Principles articulate the relationship between trees and people in the 21st century.  The new charter will provide guidance and inspiration for policy, practice, innovation and enjoyment. It will redefine the everyday benefits that we all gain from woods and trees in our lives, for everyone, from Government to businesses, communities and individuals.
Since the campaign started over 50,000 stories have been submitted by members of the public revealing the role of trees in our lives. At the same time 70 cross-sector UK organisations have shared their support for the charter. The Woodland Trust who started the campaign is now asking people to sign the charter and in doing so help shape history. The 10 principles pictured below will form the bedrock of the new 'Charter for Trees, Woods and People' aiming to secure a brighter future for the nation's woods and trees, and to protect the rights of all people in the UK to access the many benefits they offer.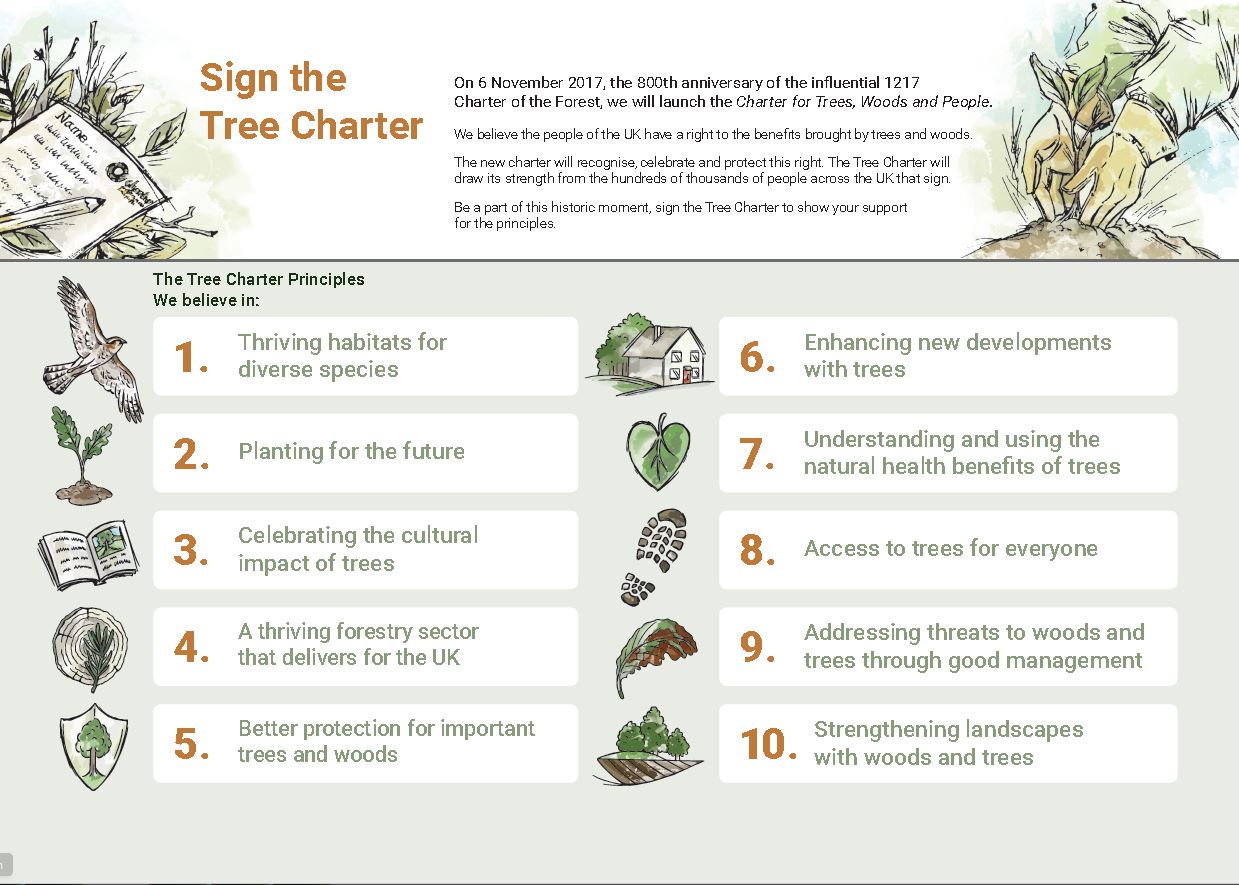 Sign the Tree Charter - click here
People need trees
Climate Change is putting trees under pressure and providing conditions for harmful pests and diseases to thrive where previously they would be restricted by our cold winters. Ancient and mature woodlands are constantly coming under threat from housing developments and infrastructure, despite the fact that the UK is already one of the least wooded countries in Europe. People of all ages are  spending less time out in the natural world, and know less and less about the trees and woods that are part of the country's natural and historical heritage. Councils are struggling to maintain and enhance tree cover in residential areas because of cuts in budget and the pressure to prioritise housing development. All of these issues are resulting in trees and woods disappearing from the lives and landscapes of UK residents, when in fact they are needed more than ever. Increasing tree cover would actively contribute to helping people and the environment deal with the pressures brought by climate change and an increasing population.
For more information about the charter - click here
Matt Larsen-Daw is a campaigner for the Woodland Trust, and Project Lead for the Charter for Trees, Woods and People, email: mattlarsen-daw@woodlandtrust.org.uk
Read more:  Huffington Post Blog: Respect your elders -why ancient woods deserve better and the Tree Charter frequently asked questions.