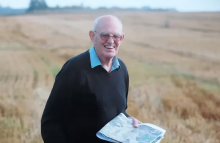 Registration is now open for the ialeUK - UKCEH Bunce Symposium
ialeUK and UKCEH are organising a symposium on Wednesday 7 September in Lancaster to celebrate Bob's academic contributions and remember how he influenced colleagues in the UK and beyond.
Bob was a founding member of ialeUK and made an outstanding contribution to the landscape ecology community throughout his long career, as described in obituaries on the ialeUK website and The Guardian.
The symposium page on the ialeUK website has the latest details, including the programme registration details. We aim for an open an inclusive event for landscape ecologist from across the UK and beyond, and warmly welcome colleagues who may not have known Bob.
We are delighted to have more than 20 speakers from 8 countries, who will present a variety of landscape ecological research. The event is free to attend, and delegates will have the opportunity to display posters of their own work.
Following the symposium there will be an evening meal in Grange-over-Sands and the next day (Thursday 8 September) there will be a walk from Grange over Hampsfell to Cartmel, following a route Bob has led people in the past.