Wednesday, 7 September 2022

to

Thursday, 8 September 2022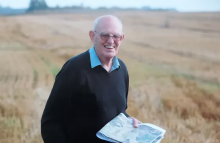 Symposium and Walk
We were deeply saddened by the death of our beloved colleague, and founding member of ialeUK, Bob Bunce. Bob made an outstanding contribution to the landscape ecology community throughout his long career, including the UKCEH Countryside Surveys.
ialeUK and UKCEH are organising a memorial symposium on Wednesday 7 September in Lancaster to celebrate Bob's academic contributions and remember how he influenced colleagues in the UK and beyond. We are delighted to have a packed programme with 20 speakers from eight countries covering a diversity of topics (see below). 
Following the symposium there will be an evening meal in Grange-over-Sands and the next day (Thursday 8 September) there will be a guided walk from Grange over Hampsfell to Cartmel, following a route Bob has led people in the past. The activities in Grange will be organised by Bob's son David.
Attending in person - early registration advised
ialeUK and wider IALE members are warmly invited to join any or all of these activities. The programme will be informal and inclusive, aimed at Bob's old and recent colleagues and friends as well as the wider landscape ecology community. There will an opportunity to hang posters of your own work to show colleagues during lunch. 
Please use this form to register for the symposium and/or the activities in Grange-over-Sands. Early registration advised.
The Symposium costs are covered by ialeUK and UKCEH. You will be contacted about final logistics and the costs of the evening meal and lunch in Grange-over-Sands will collected a few weeks before the event.
Please consider booking your accommodation early as prices for accommodation are likely to increase, especially in Grange. We recommend booking a hotel in central Lancaster the night before the symposium, and somewhere close to Grange-over-Sands train station for the Wednesday night. For further info and queries, please email marc.metzger@ed.ac.uk
Attending online
We have had requests for far and near about the possibility join the activities remotely. There will also be the opportunity to view a live stream, although unfortunately we are unlike to be able to facilitate much online interatcion. We will be recording the symposium and make this available through the ialeUK website. If you would like to receive detail about the live stream, please complete this short form.
Programme
Tuesday 6 September
Symposium participants arrive in Lancaster – participants book their own accommodation
Optional evening meal and drinks in pub – at own expense
Wednesday 7 September
10.00 - 16.00: Symposium at UKCEH with keynote by Dr Rob Jongman, followed by shorter contributions from colleagues presenting work influenced or inspired by Bob (provisional programme below)

16.00 - 17.30: Travel by train to Gange-over-Sands

17.30 - 19.00: Check into hotels – participants to book their own accommodation

19.00 - 22.00: Informal dinner at the Commodore Inn – at own expense
Thursday 8 September
A guided walk by Simon Smart (UKCEH) will start at Grange-over-Sands railway station at 9.30 and then go up and over Hampsfell taking in limestone woodland, species-rich grassland and the rare priority habitat, limestone pavement. The route was loved by Bob and he led colleagues many times across this spectacular mosaic of habitats. We reach Cartmel in time for lunch at the Unsworth's Yard, possibly followed by a pint in the Pig and Whistle. This is where the formal programme ends. It is a 4km walk back to the Grange-over-Sands train station.