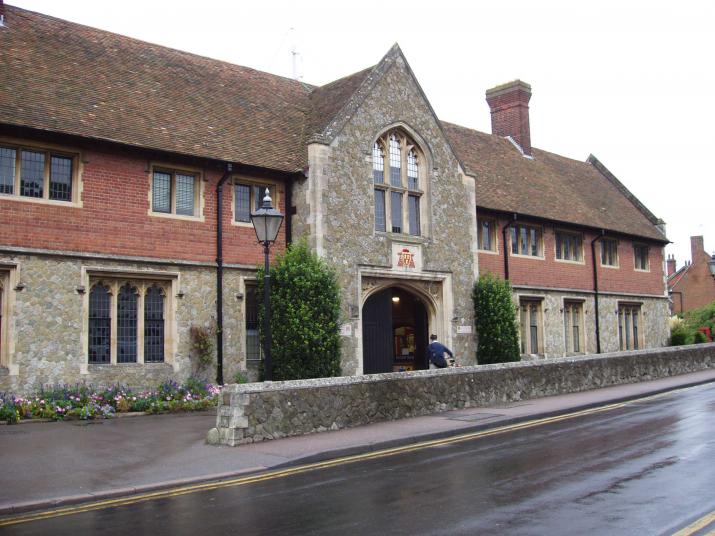 Chris reflects on his university life at Wye College, the role of a particularly gifted lecturer and his wider involvement in politics and music in shaping a diverse and rewarding career.
Contrasting landscapes
I arrived in Wye in the autumn of 1966, astonished by a landscape that actually smelled of apples.  I had grown up in a family of Sheffield ramblers, with a love of wild countryside and a passion for gardening.  Holidays were spent in Snowdonia and weekends in the Peak District, so a sleepy village in the soft south was something of a culture shock. In my first year there were no afternoon lectures and I used my time to explore Wye's local countryside.  I sketched and painted, and learned to love a landscape which contrasted completely with the mountains and moorlands of my youth.  Fifty years ago Wye's farmland was still rich in wildlife.  There were nightingales in local woodlands, yellowhammers in the hedgerows, and pastures thick with cowslips.  In 2015 I walked that landscape with an old Wye friend once more.  The contrast was depressing.  In a 30ha field of flowering red clover I saw two bumble-bees and, in a five hour walk, just two butterflies.
Career Infleuences  
I always say that I spent my three undergraduate years being taught how to kill things. The agrochemical revolution was at its height, but the late 1960s was also a time of student revolution.  Jack Straw was president of the National Union of Students and I was the President of the East Kent Students' Association, which linked me into politics way beyond Wye.  Both elements shaped my next fifty years.  I also ran the college folk club, and I guess that gave me the confidence to take up broadcasting. Twenty years later I even re-lived my youth, with a national tour as a singer/song writer with the Albion Band.
Tom Wright - a transformational teacher
In addition to the agrochemicals, the politics and the performing I had a fourth very significant influence.  Tom Wright arrived in my final year.  He was a young lecturer from Pershore College, and he was truly transformational.  He introduced his students to the possibility of a career in landscape architecture, where a jack-of-all-trades like me might combine skills in horticulture, the arts, physical geography, politics and a love of the wider landscape.  Tom was a breath of fresh air in an academic world of organic chemistry, agro-economics, pomology and floriculture.  It is no coincidence that well over half my horticulture contemporaries went from Wye into landscape careers. I left Wye in '69.  I took a job in the embryonic landscape contracting industry, and studied to be a landscape architect.  Since then my career has been extremely varied, but my horticultural roots have never left me.  In my late 20s I was greening the deserts of the Middle East, and in my 30s I was greening the deserts of inner city Britain. The 1980s saw me valiantly establishing community gardens with inner city kids, and one of the most satisfying moments came at the end of the Brixton riots.  Everything was trashed - but no-one had touched the sunflowers on our Tulse Hill Nature Garden. Alongside the applied horticulture I also lectured in landscape design to part-time postgraduates for about 14 years, and throughout the 1980s I enjoyed a very active media career.  BBC Countryfile was modelled on one of my regional TV series, and I was one of its original presenters.
I have always worked across the public, corporate and voluntary sectors.  I have been lucky enough to serve as a government adviser, and a trustee of the national lottery. I have worked for major corporations in the water, construction , minerals and energy industries, and my student politicking has found an outlet through a lifetime's involvement with nature conservation charities.  I like to think I shook the horticultural establishment when I made the very first wildlife garden at Chelsea Flower Show in 1985, and 30 years later I am campaigning to save the wonderful wildlife garden in the grounds of London's Natural History Museum.
Joined up thinking
Wherever I go I hear the plaintive plea for more joined up thinking in these challenging times.  Can we use High Speed Two to restore the lost ecological riches along a wide corridor through the damaged farmland of Middle England?  Can off-shore wind farms also serve as sea bed refuges for fisheries recovery?  Can urban greenspace networks be funded as a cornerstone of the healthcare economy?  Can the uplands be farmed and forested in ways that protect and purify our drinking water and reduce the risk of urban flooding?  I like to think that my three years of tangled experience at Wye has equipped me to help with the joining-up. As an example I am currently chairing the cross-sectoral stakeholder advisory group for the National Grid, determining where best to spend £500 million removing pylons and power lines from National Parks and AONBs.
The legacy of Wye
The year after I left, Wye expanded into environmental studies, again inspired by Tom Wright and it  is striking to see how many of today's environmental movers and shakers can trace their roots back to Wye College and that golden age of revolution.  When I was there I was pleased to be an energetic fish in a very, very small pond. Any splash we made at the time seemed isolated and insignificant.  How satisfying it is, two generations later, to see that our early ripples are now managing to make waves.
Interested in the Wye legacy? read Nick Giesler article in A day in the life of an environmental and sustainablity consultant