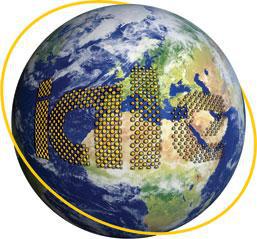 This article contains a summary of the wide selection of symposia at the IALE 2013 European Congress in Manchester
Adaptive forest management approaches: A landscape ecology holistic view
Sandra S. Luque, (IRSTEA) National Research Institute of Science and Technology for Environment and Agriculture; João Azevedo, Instituto Politécnico de Bragança
Adapting landscape systems to climate change is an emerging topic in science. Focusing on biodiversity conservation as a proxy for the ecological dimensions of a sustainable forest management; the symposium will explore integrative approaches from the plot level to the landscape level, considering adaptive management and ecological thresholds.
Agent based models of landscape scale socio-ecological systems
Jasper van Vliet, VU University Amsterdam; Shah Jamal Alam, University of Edinburgh
This symposium will draw on the wealth of developments in agent based modelling of socio-ecological systems with a focus on the interactions between people and landscapes. There is a widespread use of agent-based models in socio-ecological systems and this symposium will strengthen links between this work and the landscape ecology community.
Biocultural landscape conservation in the framework of landscape ecology: a European perspective
Gloria Pungetti, University of Cambridge
This symposium will explore the link between cultural and ecological diversity; demonstrate ways in which biocultural landscape and diversity can contribute to conservation biology; improve understanding of cultural and spiritual values of landscapes and ecosystems; and promote the integration of these values into policy, planning and management.
Changing Mediterranean Landscapes
Linda Olsvig-Whittaker, Israel Nature and Parks Authority; Stefan Schindler, University of Vienna
The symposium will explore the shared concerns and possible shared solutions for landscape conservation in the Mediterranean Basin. Many of the threats and pressures experienced by Mediterranean nations will be discussed along with changes to coastal landscapes.
Changing urban areas using landscape scale ecological processes and thinking
Philip James, University of Salford; Alison Millward, UNESCO – UK-MAB Urban Forum; Kerry Morrison, UNESCO – UK-MAB Urban Forum; Oliver J. Bishop, University of Salford; Matthew Dennis, University of Salford
Landscape ecological processes within urban areas, and between urban and rural areas, deliver important ecosystem services. This symposium will explore new ways of viewing landscape ecological processes both within and outside urban areas. It will draw attention to the dynamics of urban areas and to the ecology of towns and cities.
Climate change adaptation and landscape planning
Claire Vos, Alterra, Wageningen University and Research Centre; Stefan Rüter, Leibniz University Hannover
This symposium will explore adaptation measures at the landscape level to increase the adaptive capacity of regional communities. It will include the latest research and planning solutions for the challenges of climate change.
Collaborative research for the European Landscape Convention
Bas Pedroli, UNISCAPE / Wageningen University; Peter Bezak, Landscape Europe / Institute of Landscape Ecology
This symposium will discuss the practical experience with collaborative research approaches in issues of landscape planning and management. The relevance of these approaches – including a range of methods, from action research and knowledge brokerage to social learning and institutional change – for sustainable and equitable landscape development will be discussed.
Community-based planning with landscape services
Paul Opdam, Wageningen University; Eveliene Steingröver, Alterra Wageningen UR
This symposium will explore the role of planning and design methods based on landscape services and green infrastructure concepts in bottom-up landscape governance. It will consider how the applications of such methods may stimulate: social learning in local communities; collective action to adapt the landscape; and investments to create added value out of landscape services.
Diversity, function and impairment in freshwater ecosystems: consequences for conservation and ecosystem services
Steve Ormerod, Cardiff University; Isabelle Durance, Cardiff University; Cayetano Gutiérrez-Cánovas, Universidad Murcia
Europe's freshwater ecosystems are now extensively modified by multiple, landscape-scale pressures on their catchments, riparian zones, floodplains and channels.  There are large effects on aquatic species composition and diversity, but knowledge about consequences for ecological function, conservation and ecosystem services is still fragmented. This symposium will explore emerging themes in this highly topical and strategically important subject area, blending fundamental science with management relevance.  It will include presentations by international researchers and practitioners working at landscape scales in freshwater ecosystems.
Earth Observation for biodiversity surveillance: technology for policy implementation
Emilio Padoa-Schioppa, University of Milano-Bicocca; Paola Mairota, University of Bari; Rob Jongman, Alterra Wageningen UR; Palma Blonda, National Research Council
The symposium will explore new techniques in Earth Observation systems for biodiversity surveillance. It will consider examples operating at different spatial and temporal scales and using a wide range of different techniques including High Resolution, Very High Resolution and LiDAR. Developing policy informed by monitoring and modelling evidence will also be discussed.
Ecological networks in real landscapes
Nicholas Macgregor, Natural England; Andy Wharton, Natural England; Humphrey Crick, Natural England
This symposium will explore some of the issues around designing and implementing coherent and resilient ecological networks in practice in different landscapes. It will include discussion of how to take into consideration the full range of relevant ecological and human factors.
Ecosystem Services: building informed policies to orient landscape dynamics
Elena Gissi, University Iuav of Venice; Benjamin Burkhard, University of Kiel
The symposium will discuss ecosystem services as a tool to support and inform decisions in landscape related policies and planning and will investigate the interrelationship between ecosystem functions, ecosystem services and human benefits. It will consider methodologies, domains of calculation, identification of Ecosystem Service beneficiaries and providers, Ecosystem Services potentials and resilience to change.
Exploring the landscape ecological implications of the land sparing or sharing debate
Simon Smart, NERC Centre for Ecology & Hydrology
The symposium will explore the possible landscape ecological consequences of land-sparing or sharing across Europe and other parts of the world. It will build a clearer, more evidence-based assessment of the contribution of land-sparing or sharing to reconciling food production and conservation.
From survey to monitoring of landscapes and biodiversity
Gabriela Hofer, Agroscope; Wendy Fjellstad, Norwegian Forest and Landscape Institute
The symposium will explore lessons learned and solutions proposed for long-term monitoring of landscapes and biodiversity. It will include presentations and discussion relevant to planning, implementing and increasing the policy impact of monitoring schemes.
Geographic location matters: the potential of landscape functioning and trade-offs to contribute to ecosystem services provision
Marta Pérez-Soba ALTERRA - University and Research Centre Wageningen; Sandra S. Luque IRSTEA - National Research Institute of Science and Technology for Environment and Agriculture
The symposium will explore the conceptual and empirical work that is needed to make the ideas of ecosystem services (ESS) and natural capital (NC) operational. Presentations will provide background information for discussions based upon the two newly funded EU projects OpenNess (OPERATIONALISATION OF NATURAL CAPITAL AND ECOSYSTEM SERVICES: FROM CONCEPTS TO REAL-WORLD APPLICATIONS) and OPERAs (OPERATIONAL POTENTIAL OF ECOSYSTEM RESEARCH APPLICATIONS).
Paul Mahony, Countryscape; Jonathan Porter, Countryscape; Laura Jagota, Countryscape
The symposium will explore the changing urban, peri-urban and rural landscapes in and around Manchester, considering pioneering local research and practice alongside international experience. The symposium will bring together researchers, policy makers and practitioners, stimulating debate around future landscapes in post-industrial cities around the world.
Integrated local landscape management in a globalised world: practices and pathways
Simon Swaffield, Lincoln University; Jørgen Primdahl, Copenhagen University
The symposium will compare current best practice in local landscape management of foodlands across a range of developed countries within and beyond Europe. It will identify and evaluate different potential pathways to improved integration of public policies within local landscapes in which food production is a significant function.
Landscape ecology education in a changing world
Janez Pirnat, University of Ljubljana
This symposium will evaluate landscape ecology education in the past and give an overview of the present situation in different European countries / regions and the approaches of different universities. Round table discussion will develop proposals for improving landscape ecology education in a changing world.
Land use change in Europe: new understanding, better modelling, and roadmapping to a desired future
Marc Metzger, University of Edinburgh; Helmut Haberl, Alpen-Adria Universitaet
This symposium will discuss challenges for land system science with a focus on: empirical studies that improve insight into land system processes; landscape and land use models that incorporate the multi-scale dynamics of land system change; and studies that combine explorative scenarios and normative visions to support decision-making.
Land system change impacts on European landscapes
Peter Verburg, VU University Amsterdam; Tobias Kuemmerle, Humboldt University
This symposium will explore the extent and spatial distribution of land system changes including agricultural abandonment and (peri-) urbanisation through new mapping and observation methods as well as land change models. It will analyse the consequences of land system changes for landscape function and ecosystem services; provide case studies of alternative ways to mitigate or adapt; and consider the role of policy and planning instruments.
Linking social indicators across scales: upscaling and downscaling - the state of the art and challenges ahead
Sónia Maria Carvalho Ribeiro; Maria Teresa Amado Pinto Correia, University of Evora; Maria Luísa Paracchini, JRC- Joint Research Centre
The symposium will highlight the importance of bridging indicators across scales so that local scale assessments can inform policy making at broader scales. It will present the state of the art in methodological approaches for upscaling and downscaling assessments namely of social indicators and discuss future methodological and conceptual research needs.
Monitoring heritage landscape: looking for critical expertise
Filipe Themudo Barata, CIDEHUS - University of Évora; Sofia Capelo, CIDEHUS - University of Évora; José de Mascarenhas, CIDEHUS - University of Évora
This symposium will explore how academic and professional skills contribute to monitoring heritage landscape. It will include participants from a wide range of disciplines involved in developing knowledge and new techniques for heritage landscape monitoring.
Scaling climate change models for the assessment of landscape systems
Burghard C. Meyer, Leipzig University; Gabor Mesösi, University of Szeged
The symposium will explore the problem of linking the climate information from regional climate change prediction models to landscape systems. The symposium will discuss the scaling problem and will give insights about the use of regional climate change models in landscape systems modelling and about the application in hazard assessment and measures development.
Social theory and empirical findings in European landscape ecology

Andreas Aagaard Christensen, University of Copenhagen; Stig Roar Svenningsen, Royal Danish Library; Anna Verhoeve, Institute for Aricultural and Fisheries Research; Marc Antrop, University of Gent; Jesper Brandt, Roskilde University
This symposium will explore the social theoretical concepts that have become embedded in many of the academic practices defining landscape ecology. The symposium will discuss the implications of the way social theory is used in landscape ecology, with an explicit focus on European cultural landscapes.
The 10-year anniversary of landscape genetics: current status, remaining challenges and future potential of genetic approaches in landscape ecology
Janine Bolliger, Swiss Federal Research Institute WSL; Niko Balkenhol, Georg-August University of Göttingen; Tonya Lander Natural History Museum
The symposium will discuss landscape genetics, which is an exciting and rapidly growing sub-discipline of landscape ecology. It will include a mixture or conceptual, methodological and applied contributions, providing an overview of the opportunities, remaining challenges and potential future directions.
Bob Bunce, Estonian University of Life Sciences
The symposium will explore new forests that are developing across Europe including planned afforestation and natural regeneration on abandoned land. Presentations will describe the current status of these new forests with particular emphasis on their landscape ecological impacts and assess the potential for future change.