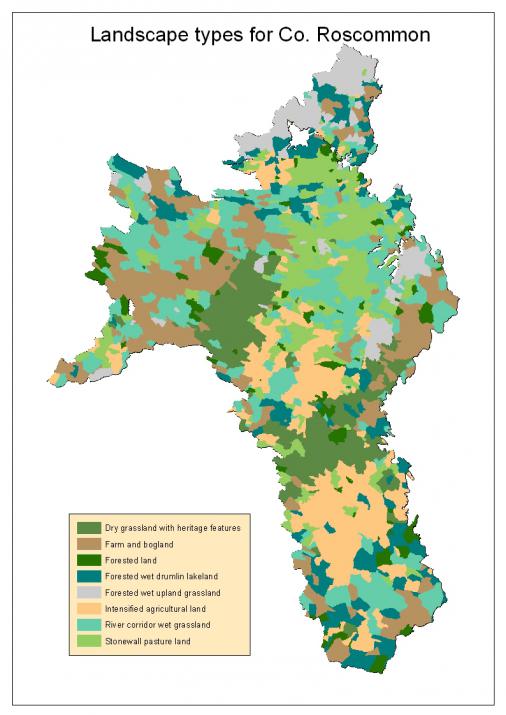 The map is part of a research programme looking at the Rural Environment Protection Scheme (REPS) with a view to produce a Strategic Environmental Assessment (SEA) method of the schemes with respect to their effect on landscape.
This stage of the research tests the potential of landscape typology assessment at a townland scale with the focus on Co. Roscommon. This landscape type map has been created from a statistics driven approach. The primary use of this map for this research has been to utilise these landscape types to determine impacts from REPS4 options on landscape in Co. Roscommon through SEA-like expert opinion process. The map shows the output of a successful method, using statistical clustering of farming, environmental and topographical data at a townland scale, to generate a landscape characterisation of county Roscommon without any prior human judgement of value. We feel that our LCA method could be used to generate a national LCA without imposing human judgement on where the areas should be drawn.
This statistics driven approach could also be useful in terms of education and could be very useful in terms of a landscape management tool. Such a tool could offer an in-depth knowledge of the various landscape types that are present from one part of a county to another, thus enhancing awareness in relation to landscape education.
This statistics driven approach could also be useful at a local level as it is devised from a bottom-up scale. Each townland in Roscommon is characterised offering very detailed data at this level. This could be useful at a local level in terms of local tourism and community initiatives creating a local landscape atlas. Although this research solely focused on Roscommon, the same process could be carried out for other counties with the view of creating a national landscape atlas. 
This work was carried out by Jackie Whelan funded under the Walsh Fellowship Scheme and is directed under the supervision of Stuart Green (Teagasc, Kinsealy) and John Fry (UCD).
Contact details: Jackie Whelan Email address: Jackie [dot] whelan [at] teagasc [dot] ie