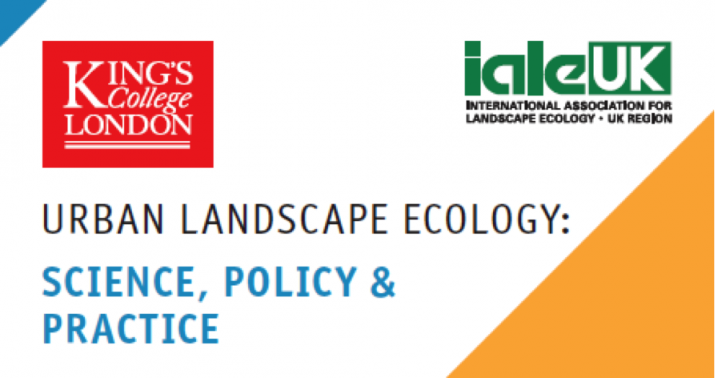 This year in early September the ialeUK Annual Conference heads to London. Meeting at the heart of a global city of culture, business and ideas will provide the perfect location from which to consider the pivotal role landscape ecology has to play in identifying sustainable solutions to challenges faced by urban landscapes and those connected beyond. Hosted by Dr James Millington and others at King's College London, the theme of this year's conference is 'Urban landscape ecology: science, policy and practice'. 
The urban theme of the conference has particular importance as cities continue to grow rapidly, posing ever-increasing challenges for the natural environment on which they impact and depend. These impacts are felt not only within city boundaries but also in surrounding peri-urban areas. Landscape ecology has a pivotal role to play in identifying sustainable solutions to the challenges faced by urban areas, investigating and improving our understanding of interactions across space and time between the structure and function of physical, biological and cultural components of urban landscapes. 
At the conference researchers, policymakers, and practitioners will consider and discuss how concepts from landscape ecology can inform the maintenance and restoration of healthy, properly functioning natural environments across urban and peri-urban landscapes. Such function is the foundation of sustained economic growth, prospering communities and personal wellbeing. Presentations and posters will cover themes including: managing and planning urban landscapes for wildlife and people; patches and heterogeneity in urban landscapes; mapping and modelling ecosystem services (including regulation of air and water quality, as well as cultural services); and ecological connectivity of aquatic environments. 
On 1st and 2nd September the conference will have presentations on science, policy, planning and practice, with posters and networking events. On the third day of the conference (3rd September) we'll have some exciting excursions to the Thames Barrier, Queen Elizabeth Olympic Park, and up the Shard, Western Europe's tallest building. We hope these excursions will help put many of the ideas and concepts raised at the conference into context, for example by enabling participants to consider urban connectivity by viewing London and beyond from a height of 244m above the surface of the Thames.
The first call for abstracts for presentations and posters at the conference has now closed and we have received many interesting and exciting proposals. If you didn't submit an abstract in the first call, our second call is now open. In this second call we would particularly welcome abstracts dealing with social and cultural dimensions and urban aquatic and wetland environments. If you'd like to submit an abstract, email up to 300 words (with keywords) to conference2014 [at] iale [dot] org [dot] uk by 21 April 2014. Selected papers presented at the conference will compose an edited book on current key issues in urban landscape ecology.
Registration for the conference will open in spring. Keep an eye on the conference webpage for details of how to register and for updates on the conference programme: http://iale.org.uk/conference2014 If you have any questions or queries about the conference don't hesitate to email: conference2014 [at] iale [dot] org [dot] uk And if you're using social media, checkout (and please use) the hashtag #ialeuk2014
We hope that many of you will be able to join us in London 1-3 September 2014 for what is shaping up to be an exciting and stimulating conference!