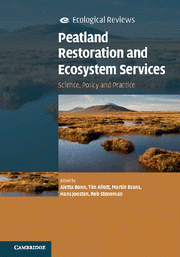 White lie – it's not a nutshell, it's a book.
But why would anyone want to restore something that's wet, muddy and that you might even sink into? And if someone did restore it, would the people of the world be better off? How? And what legacy would it leave their successors? How do we know all this? Can it be done? Can we find ways to make it happen?
If you want a single source to learn what peatland restoration is all about, the book 'Peatland restoration and Ecosystem Services: Science, Policy and Practice' fits the bill.  I'm bringing this to the attention of landscape ecologists because peatland restoration is among the newest and most topical of land uses and sources to learn about it are few and far between.
Aimed at a global audience of scientists, land managers and environmental policy makers, as well as graduate students in the natural and social sciences, the subject matter is divided into 3 sections:
Peatland ecosystem services
Perspectives on peatland restoration
Socio-economic and political solutions to managing natural capital and peatland ecosystem services.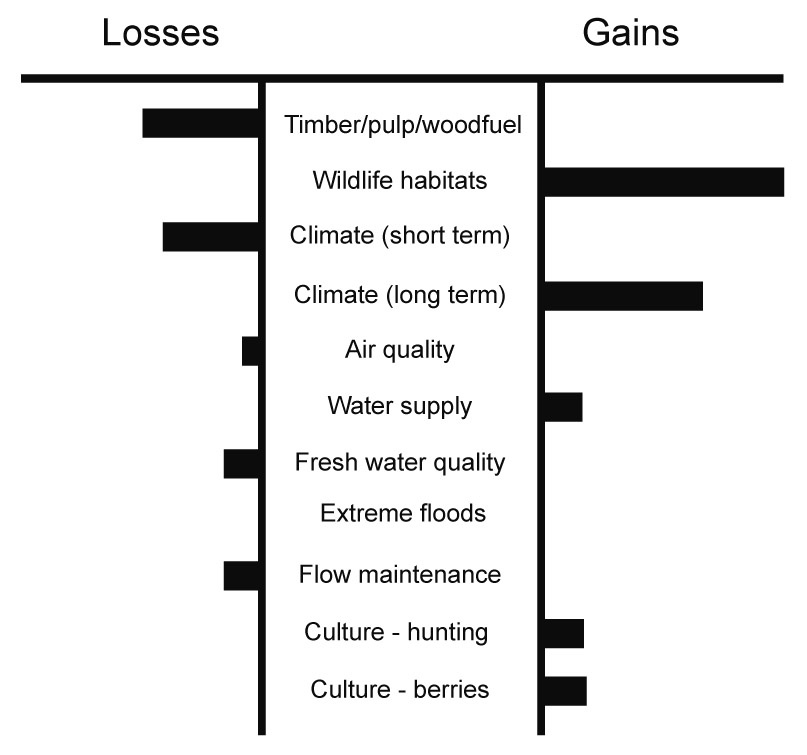 Diagram (right) showing relative values of ecosystem service losses and gains from forest-to-bog restoration. From Chapter 12 Afforested and forestry-drained peatland restoration by Russell Anderson, Harri Vasander, Neville Geddes, Anna Laine, Anne Tolvanen, Aileen O'Sullivan, and Kaisu Aapala. ©UK Crown
The coverage is international, as is the authorship. Northern and tropical peatland perspectives are both included, with many case studies illustrating different perspectives. This book in the BES Ecological Reviews series published by Cambridge University Press is available in hardback, paperback and e-book formats.
Russell Anderson is a research scientist specialising in peatland ecology. He works in the Land Use and Ecosystem Services Research Group at Forest Research, the research agency of the Forestry Commission. Email:  russell.anderson@forestry.gsi.gov.uk