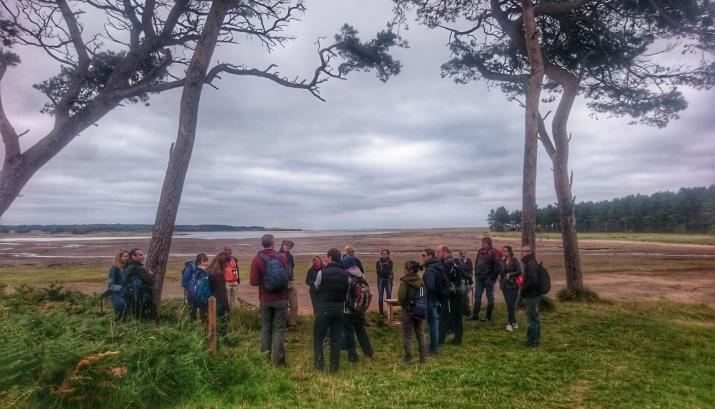 Seascape is a meeting point between land and sea, and between disciplines. Just as landscape ecology brings together nature and culture, linking pattern and process, so does seascape ecology. The diverse perspectives presented and discussed during the 2015 ialeUK conference showed many opportunities for future collaboration to advance the understanding of seascape.
What is a seascape? The conference offered a broad perspective and there was a consensus that seascape includes coastal land, the water surface, water column, sea bed, buried archaeology and underlying geology. Seascape includes the intervisibility between land and sea and extends from coastal waters to the open ocean.
Seascape is culture, manifested in physical features and in the more intangible memories of local people and shared values of communities. Learning about that culture means talking to the people who live, work and spend their leisure time in seascapes. There is a rich language of the sea and it is important to use the correct terms to describe the many layers of meaning.
People have a strong connection to their local seascape but many marine habitats and features are largely hidden from view. Building a wider sense of ownership and stewardship of seascape at continental and global scales is challenging. Better communication is needed to increase understanding of the special characteristics of different seascapes and their value to society.
Landscape ecology principles are transferrable to seascape, with care. It is important to take account of the very dynamic systems associated with the marine environment, including shifting currents and patterns of sedimentation. Maritime traditions and overlapping interests of seascape users also demand particular attention.
There is urgent need for more research and data on seascape to enhance decision making and policy. There is limited understanding of the impacts of marine development, including renewables. The monitoring of developments is vital to inform the assessment of impacts of potential future infrastructure.
Research needs to be at an appropriate temporal and spatial scale to understand seascape. The many mobile species in marine and coastal ecosystems need a particularly broad perspective. Innovative technologies such as remote sensing, autonomous vehicles and radio-tracking are generating rich datasets that can be studied with improving spatial analysis techniques and software.
Research needs to span the whole range of seascape habitats. Some habitats, such as coral reefs, have received a lot of research and public attention, but there is still need to study these habitats from a broader seascape ecology perspective. There is a growing recognition of the importance of other habitats, such as seagrass and sand dunes.
The inspiring field visit to the John Muir Country Park and exploration of the East Lothian coast along John Muir Trail illustrated how long term management plans and stable governance structures can deliver a wide range of benefits to the local community, whilst enhancing the landscape and conserving wildlife.
The conference was a unique opportunity to learn from others and to develop a broader view of seascape. Delegates included people approaching seascape from the land and from the sea but everyone dispersed as larval seascape ecologists!
Thank you to Anja Liski, Marc Metzger and Meriwether Wilson for all their hard work in organising the conference.
Jonathan Porter
ialeUK President
@JPscape
The conference ebook, videos and other materials are available to download from the ialeUK website.