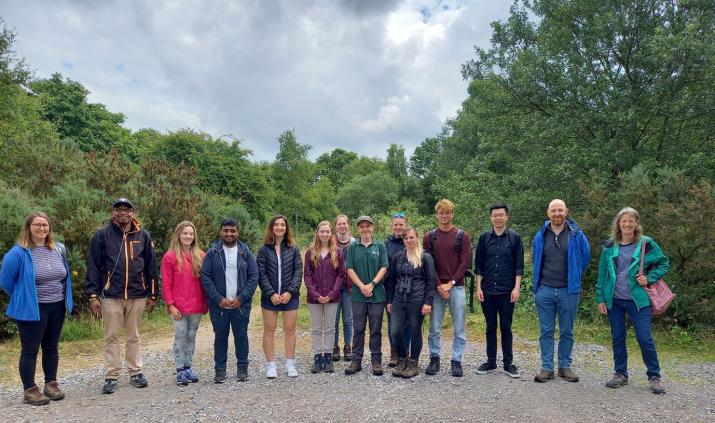 More, bigger, better, joined: these were the key messages of the Lawton review that has guided much of England's conservation work over the past decade to improve ecological networks and their capacity to help nature thrive. The need to protect and restore our biodiversity, and to do so in a way that lives up to these principles, therefore makes the upcoming Local Nature Recovery Strategies an important and potentially pivotal moment for England and its natural heritage.
As a result, last month's IALE UK PGR workshop, hosted at the University of Reading, offered a very timely and useful insight into how these strategies might shape conservation in England and in particular, the importance of ensuring effective stakeholder engagement.
Day One: An introduction to LNRS
The first day saw a mix of talks by speakers offering a variety of perspectives on how the local nature recovery strategies might be developed. These talks highlighted the value local data can have for plugging gaps in larger datasets, the importance of ensuring interventions are evidence-based, and the role that systematic conservation planning can have as a tool to bring stakeholders together around a common vision and provide priority maps to inform action on the ground. Many of these discussions centred on some of the lessons learned in piloting LNRS' and from previous mapping exercises such as nature recovery plans, chief among these being the need for effective stakeholder engagement.
For LNRS to be successful, effective collaboration will need to be embedded in this process, both to ensure stakeholders are on board and that the strategies are effectively integrated into wider decision-making. The presentations and subsequent panel discussion raised interesting points about how to facilitate this through the choice of mediums to communicate these strategies, ensuring the process is transparent and avoiding taking a 'one-size fits all' approach.
Having this point emphasised throughout was very encouraging, particularly as the success of previous mapping approaches have perhaps failed to realise the potential their innovative approaches have offered. It was fitting then that the rest of our afternoon involved training on the skills needed to interview stakeholders to gain insight into their viewpoints, skills we would soon get to practice on day two.
Day two: Approaches to heathland restoration and stakeholder engagement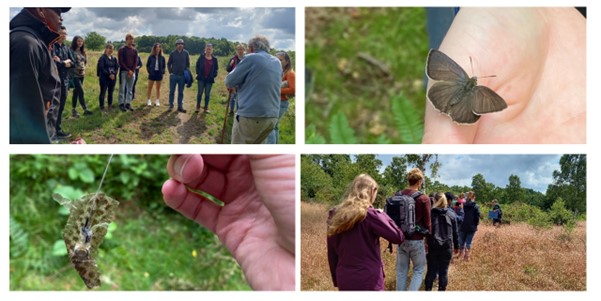 Clockwise: Listening intently to the story of Bucklebury Heathland, a Purple Hairstreak spotted at Bucklebury Heathland, walking through the multiple habitat types comprising Crookham Common, and a radio tag used to monitor Adder movements and ensure key habitats were kept in the landscape.
On day two, our morning involved gaining an insight into the management of heathland at two nearby sites. Heathland is a habitat which has long been entwined with human activity and culture, and so gaining an insight into two very different approaches to management was a great way explore the potential considerations that may come into play during the implementation of local nature recovery strategies.  
The first of our tours was guided by Tim Cully, who has led the Bucklebury Heathland Conservation Group for 20 years. Walking through a dense and luscious patch of woodland, we emerged into the open, heather-scented expanse of the heathland where Tim outlined his approach to management and some of the challenges he faces to prevent the succession of Silver Birch. What came through in this discussion was his and the community's deep attachment to the place and its rich cultural history. The management approach here contrasted with our next visit to the Berks, Buckinghamshire and Oxford Wildlife Trust managed heathland, Crookham Common.
Whilst utilising some of the same methods, BBOWT's management embraced a wider variety of management techniques, using approaches to manage the succession of woodland such as ring-barking and leaving standing wood as valuable habitat. Perhaps a key take-away for our audience was the role PGRs can play in supporting local conservation groups. BBOWT's site has benefitted from their own resources and projects focused on data collection to better understand the species within the habitat. The Bucklebury Heathland Conservation Group, however, have supported MSc/MRes research projects but have often failed to hear back from the students. In future we must acknowledge the importance of communicating our research and understand the value of our data.
At both sites, the surrounding woodland is kept at bay due to the rarity of the habitat and its value for wildlife species who would not be supported in the region otherwise. The type of habitat we decide to conserve or restore and where will be a key part of these strategies and so hearing both organisations' perspectives on this and the challenges of their respective sites was a very worthwhile addition to the 2-day programme.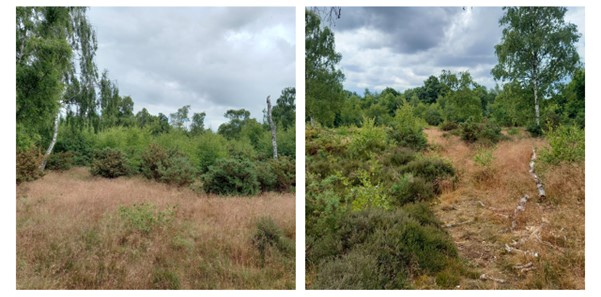 Left: An example of a birch tree that was ring barked to limit the succession of the heathland to woodland. Right: An example of an area that was scraped (left) and not scraped (right)- the scraped area displaying a richer ground flora.
The final part of the workshop involved us putting our newly minted interviewing skills to good use, chatting to environmental stakeholders about their organisation's potential roles in the LNRS' process and the potential challenges they foresee. This yielded valuable discussions and highlighted key considerations that leading authorities will need to factor into when developing their strategies.
Local Nature Recovery Strategies are arriving at a pivotal time in UK conservation and, if done right, have the potential to ensure that nature's recovery is done in an informed and effective manner.