2021 Keynote speakers
We are grateful to pleased to our excellent set of keynote speakers who opened the four main conference sessions. 
Jo Pike
Jo is Chief Executive of the Scottish Wildlife Trust, Scotland's
leading nature conservation charity. Jo has wide-ranging experience in the NGO sector, including in communications, environmental policy, advocacy, strategy development and stakeholder engagement. She was Project Director for the World Forum on Natural Capital from its inception in 2013 to its culmination in 2017 and was on the Steering Group for the Scottish Conservation Finance Project. She is currently Deputy Chair of the Scottish Forum on Natural Capital. 
Jenny Hodgeson 
Conservation biologist Dr Jenny Hodgson investigates how we can best configure landscapes to allow species to survive despite climate change and other pressures. Her most exciting project so far has been developing the software Condatis (www.condatis.org.uk), which has been used around the world to prioritise the best habitat to protect and restore. Condatis is based on population theory predicting how quickly species will be able to shift their geographic range when their habitat is sparse and fragmented. Jenny also investigates practically how species use and move between natural habitats and agricultural areas, from Britain to Borneo. With major UKRI support in the next four years she will lead the project "Robust Conservation for a Dynamic World", convening a team of collaborators with different disciplinary backgrounds to build a new scientific toolbox for reliable conservation plans that are applicable globally. 
Sallie Bailey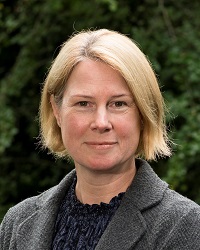 Sallie is Deputy Chief Scientific Advisor Environment, Natural Resrouces and Agriculture at Scottish Government. Until recently she was Regional Manager for Forestry and Land Scotland (formerly the Forestry Commission). She managed Scotland's national forests and land in the South of Scotland, protecting and maintaining the forests on behalf of Scottish Government Ministers, and co-ordinating all aspects of forest management to contribute to Government objectives. Prior to joining the Forestry Commission in 2002, Sallie lived in California, USA where she completed a post doctorate on forests and ecosystems in the tropical rainforests of Costa Rica, arid ecosystems of Nevada and the Rocky Mountains.
Jon Stokes
Jon is director of Trees, Science & Research at The Tree Council. He has been working on the conservation and protection of trees at The Tree Council for over thirty years and has has written and co-written ten books with The Tree Council over the years. He helped found the national Tree Warden Scheme, which was first piloted in Leicestershire, and has worked closely with volunteer Tree Wardens around the country ever since.