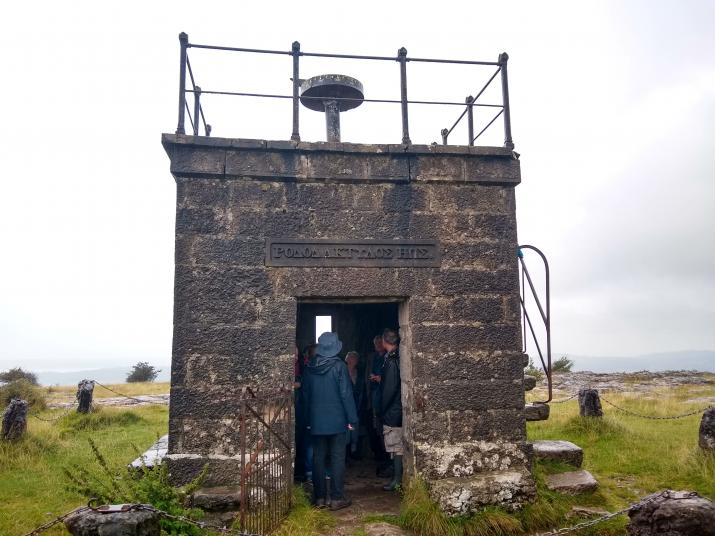 The highlight of any landscape ecology conference is very often the field trips, with time walking real landscapes in good company always rewarded. The second day of the Bunce memorial symposium took the form of a guided walk through part of the south Lake District that Bob knew well and had led groups on many times, including quite a few of the symposium attendees. Between twenty and thirty of us met our guide, Simon Smart, to start the walk at Grange-over-Sands station on the Thursday morning, with classic Lake District light rain falling.
The walk began with a steep climb through Eggerslack Wood, a fascinating ancient woodland with lots to talk about from the rare limestone flora underfoot to the likely transition from ash to sycamore dominance as ash dieback progresses. At every stop it was a pleasure to hear conversations unfolding between participants from the many parts of Europe where Bob had worked or had connections. At the top of the woods we emerged onto an open mosaic of grassland, scrub and limestone outcrops. Here there was more to discuss – 'correct' grazing levels, land abandonment, limestone pavements, and how Hampsfell sits in the wider sweep of limestone habitat on either side of Morecambe bay. The cultural and natural value of marginal agricultural landscapes is a big issue in pretty much all of the countries and regions represented at the symposium.
Views were not at their best in the persistent misty drizzle – many walk participants took temporary shelter in the Hampsfell hospice at the top! – but still allowed us to get an overview of the Eea valley and consider its history of agricultural development and more recent partial reversion to wetland.  Climate change is already bringing heavier rain and major flooding to this part of Cumbria, how this can be mitigated across the region while considering the contrasting values and needs of people who live and work in the landscape is an interesting theme for landscape ecologists following in Bob's footsteps.
Descending from Hampsfell we paused in a diverting fallow field just outside Cartmel. This allowed the tail of the walk to catch up and those at the front to indulge in a spot of botanising, with more chat about the surrounding farmland before hunger drove us on to the village. After one more quick stop to recreate the group photo from one of Bob's guided walks we made our way to Unsworth's Yard for a lunch of cheese, charcuterie and pies washed down with beer from the brewery right there in the yard – all most welcome and soon demolished. Although I never had the pleasure of joining one of Bob's walks and had only met him once briefly at the IALE UK conference in 2016, I got the strong impression that the walk was a fitting tribute to both his love for the landscape and his outstanding contribution to landscape ecology.