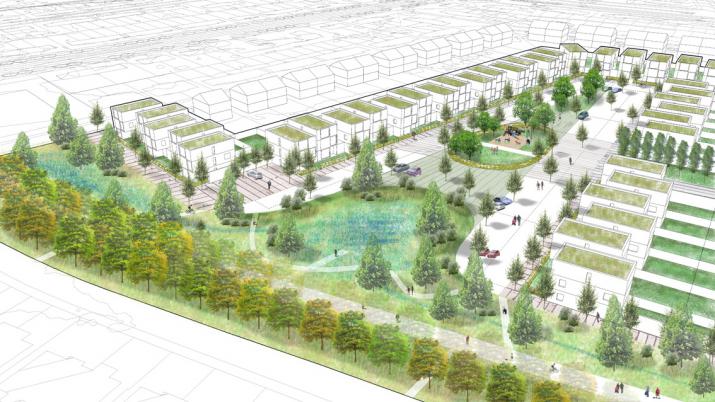 The Nitshill Integrated Green Infrastructure (IGI) Design Study is an award-winning exemplar that presents opportunities for a combination of both urban regeneration and habitat or ecological improvement in Nitshill, southwest Glasgow. Glasgow and Clyde Valley Green Network, Glasgow City Council, International Resources and Recycling Institute, Erz Limited and Glasgow EnviroCentre worked collaboratively to consider how effectively 5 core topics within the Nitshill area could deliver IGI. Core topics included water management, access and habitat networks, green and open space and stewardship over time. 
In order to revitalise Nitshill, analysis focussed on key elements, namely hydrology and geomorphology, characteristics of the built and un-built environment, habitat and ecological systems as well as the location's social and economic position. Throughout the analysis five design studies were proposed. An urban framework for Nitshill's centre was developed, as well as the development of green infrastructure and Sustainable Urban Drainage Systems for Peat Road. The studies also centred on the green link between Levern Water and Hartstone wood hill and between Darnley Mill and the Museum Resource Centre. These focus areas were proposed along side an area wide strategy, which promoted habitat creation and management of the landscape within Nitshill. 
Nitshill IGI Design Study has recently been recognised for its in-depth analysis of this realistic and cost-effective project by being awarded winners of the Integrated Habitats Design Competition 2012 against 60 other entries across the UK and recognises that progression towards better places requires IGI to be embedded both on a national and local level with demonstrative projects at site level.
For more information:
http://www.gcvgreennetwork.gov.uk/publications/nitshill-design-study.html