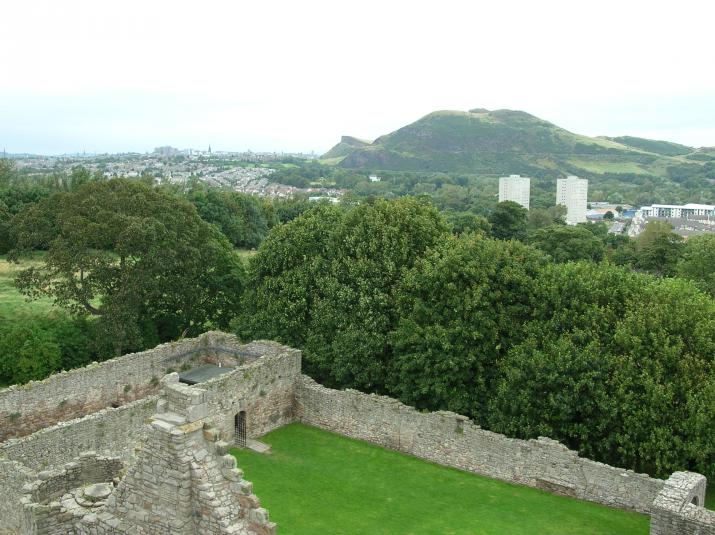 A splendid late summer sunny day attended the tour from Edinburgh's historic core through the urban, and peri-urban to the wider countryside, taking in some of the city's (and Scotland's) iconic places.  
We started off with a quick visit to the naturalised landscaping around the Scottish Parliament building – which features a selection of Scotland's diverse geology and flora – followed by a talk and walk through Holyrood Park around the base of Arthur's Seat with Katy Firth and Natalie Todman of Historic Scotland's ranger service. A Royal Park since 1541, and inhabited since the glaciers' retreated, the Park boasts a diverse cultural, historical and environmental heritage.  A few snippets:  it has 1 million visitors a year, and is the only inland nesting site for fulmars in the UK.
Next stop was a tour of the adjacent Scottish Wildlife Trust local nature reserve of Duddingston Loch and Bawsinch with Ranger Julian Warman. Despite its compact 25 or so hectares, the reserves hosts a variety of habitats – from open water, reed beds, wetlands, wet and dry grassland, scrub and woodland.  Snippets: Duddingston is the only natural loch in the Lothians, bittern overwinter here and some of the woodland is actually an unofficial arboretum – which accounts for some of the more unusual native species, such as juniper growing side-by-side with aspen and poplars.
The LNR was followed by a walk through Craigmillar Castle Park – with Jenny Hargreaves of the City of Edinburgh Council's parks and greenspace team. This valuable piece of greenspace has the green flag accolade – quite fittingly following the previous day's address from the Scottish Environment Minister who entreated us to visit one of Edinburgh's many green flag parks.   Snippets from here include the Park once hosting a gunpowder/fireworks factory, 40,000 trees being planted in the late 1990s, and the Park once housing several quarries – the stone of which, unsurprisingly, went to build the next door Craigmillar Castle. 
The Castle - our final stopping point - was crowned off with a spectacular albeit blustery climb up the tower's battlements to view the day's route from the centre of Edinburgh to the city's outskirts.  Once half a day's ride from Holyrood, Craigmillar Castle is now a mere 20 minutes by coach to Waverley station, and the end of the 2012 ialeUK conference.
Grateful thanks go all the wardens and rangers, for their enthusiasm and time in showing ialeUK delegates around their sites.