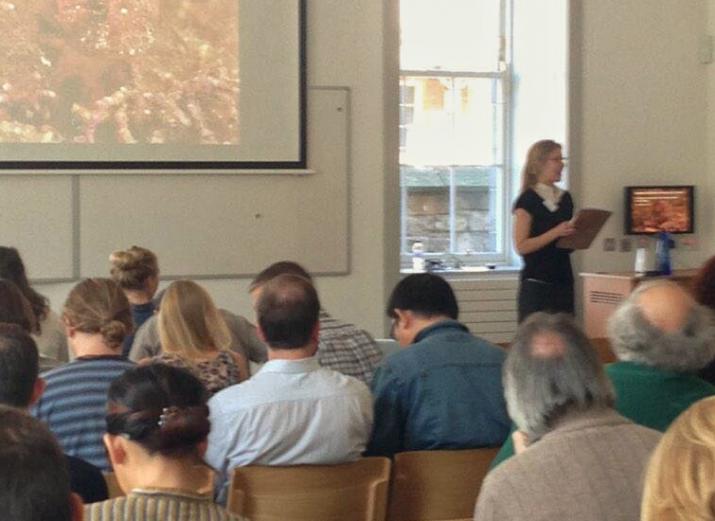 Seascape ecology is the application of landscape ecology to the marine and coastal environment. This was the focus of the annual ialeUK conference, which was held from the 7th to 8th September 2015 at the University of Edinburgh. The conference explored the emerging shift towards linking both sides of the coastal margin, and how this can help to restore habitat connectivity and protect coastal and marine systems from environmental degradation.
Topics included the use of terrestrial, coastal and marine approaches to map seascape, measure spatial pattern and understand drivers of change. The use of seascape ecology to understand the interaction between nature and culture in the future management of coastal systems was also explored. As always, there was a diverse mix of participants from research, policy and practice backgrounds, which made for engaging discussion and great social interaction throughout the conference.
Four keynote presentations were given at the conference: Meriwether Wilson of The University of Edinburgh gave a long view on the development of ideas in seascape ecology; Chris Leakey of Scottish Natural Heritage showed how research into ecological connectivity is informing nature conservation policy;  Alexia Chapman of Amec Foster Wheeler Environment & Infrastructure UK talked about experience and challenges of assessing the impact of seascape development; and Jonathan Hughes of Scottish Wildlife Trust discussed the transition from value destruction to value creation in our oceans.
A diverse range of presentations considered the natural, cultural and perceptual aspects of seascape and a wide breadth of perspectives were represented from twelve countries. On the 9th September there was a fieldtrip to John Muir Country Park in Dunbar where participants had the opportunity to explore the sand dunes, wetlands, woodlands, reclaimed grasslands and coastline, while learning about the local history and seascape management from the park rangers.
An ebook of abstracts is available to download from the ialeUK website
Video recordings of many of the presentations are available here on YouTube (opens new window)
For further information about the conference send an email to the organisers:
Anja Liski, Marc Metzger and Meriwether Wilson at the University of Edinburgh
conference2015 [at] iale [dot] org [dot] uk