Benzie Building, Manchester School of Art, Manchester Metropolitan University
Boundary Street West, Manchester, M15 6BR
Map of venue location (opens new window)
With a history dating back 150 years Manchester Metropolitan University has a distinctive character that combines the traditional with the contemporary. The University is a leading award winning University for Sustainability, ranking in the top 3 nationally for environmental sustainability. The Benzie Building is home to the Manchester School of Arts. With its steel braced oak staircases, a roof terrace with views of the Manchester cityscape and a stunning vertical gallery on each floor, it is an ideal venue for networking.
Here is the front door of the building...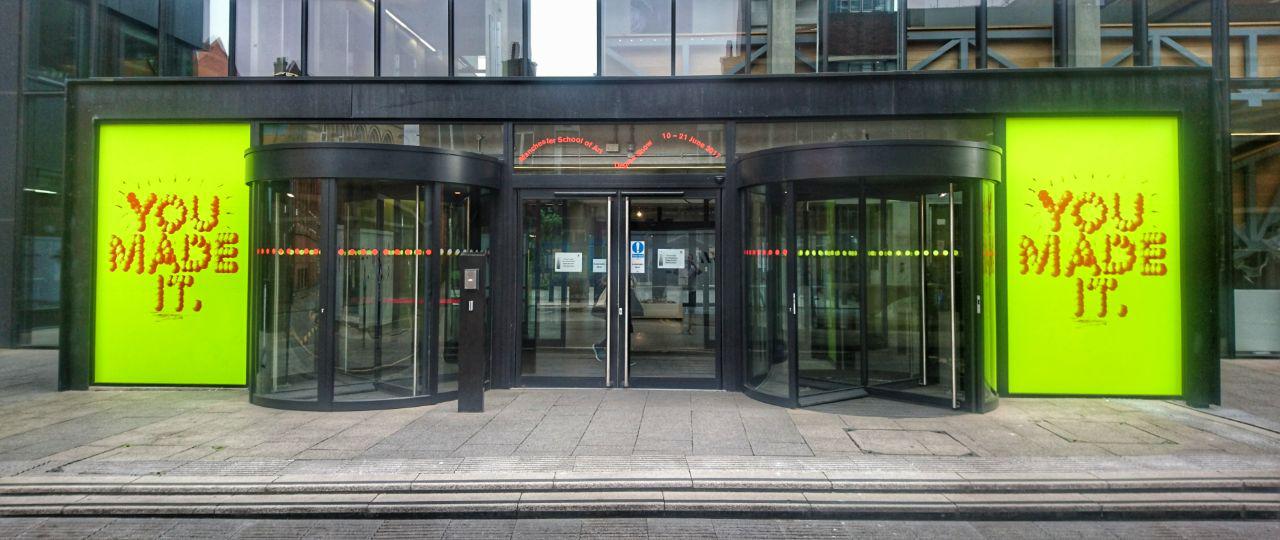 More information about Manchester Metropolitan University can be found here.
Manchester
Manchester is a vibrant modern city with ancient origins and rich industrial heritage. Manchester's precocious history of massive urbanism, industrialisation and post-industrial resilience has many lessons for landscape research.
The textile industry and related commerce boomed during the 18th and 19th centuries in Manchester and the local economy thrived. The growth in industry resulted in a huge population influx and urban expansion. During the middle of the last century industry declined and many areas of the city which had previously flourished began to degenerate.
The story today is very different. Regeneration in Manchester has changed the face of the city encouraging innovation and new industries. Manchester is now home to many galleries and museums, top international companies and exceptional universities, making it a thriving creative city with great cultural diversity.
Manchester is in northwest England at the foot of the Pennine hills, with many changing landscapes easily accessible by train. These include: vibrant urban landscapes of the Manchester and Liverpool conurbations; internationally designated upland landscapes in the Peak District, Lake District and Snowdonia National Parks; diverse coastal landscapes with important marshland and dune systems along the Ribble and Sefton coasts; extensive areas of mossland (wetland) landscapes; and tranquil farmed landscapes on the Cheshire Plain.
Travel
Manchester has excellent rail links with cities across the UK and the European rail network. There are trains every 20 minutes between Manchester Piccadilly and London Euston with a journey time of just over 2 hours. London Euston is a ten minute walk from St Pancras International, which has regular high speed Eurostar trains to Brussels, Paris and Lille.
Manchester Airport hosts 100 airlines flying from over 200 destinations. It offers direct flights from airports across Europe and intercontinental hubs. It is only a 20 minute rail journey from the airport to the centre of Manchester.
Manchester can be explored comfortably and safely on foot. There is a free city centre bus and an extensive tram network.
Campus security
The University campus is generally a very safe place as the University has a dedicated team of security patrol officers operating 24/7 as well as a comprehensive CCTV system. In general terms, whether around Campus or visiting the City Centre, please try to remain aware and alert to your environment. If required campus security can be contacted on 0161 247 1334, or if an emergency, 0161 247 2222 from a mobile, or '2222' from a University phone.